DREMEL Tools accessories
Dremel power tool accessories and attachments provide everything you need for perfect detail in your DIY projects. We stock a wide range of Dremel accessories, suitable for cleaning and polishing, cutting, scraping, grinding and sharpening, etching and engraving or sanding. If you don't spot the specific item you need, let us know as we can usually order it for you.
Browse our Yeovil store or order online for fast UK delivery of Dremel tool accessories.
Featured Brands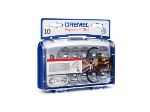 DREMEL | SC690 | 2615S690JA | EZ SpeedClic Accessory Set
The high quality accessory kits include an assortment of the best-selling accessories. Ea...
£23.29

ex VAT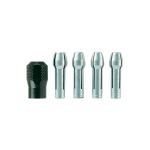 DREMEL Collets | 4485 | 2615448532 | 3.2mm including a collet nut
Dremel has created a range of Multi-Tool accessories to suit all your needs, including th...
£8.63

ex VAT